What You'll Learn
√ Understand the importance of sleep for health, the consequences of sleep deprivation
√ Learn tips for creating a sleep-friendly environment and how to establish a regular sleep routine 
√ Understand the factors that can disrupt sleep
√ Understand the role of nutrition in promoting better sleep
√ Identify, address and correct sleep patterns
√ Learn the practice of good sleep hygiene
√ Learn a variety of natural remedies, including nutrition, herbal remedies, relaxation techniques
√ Apply simple, easy and effective acupressure techniques and qigong exercises to help improve your sleep
√ Learn a variety of useful tips for better sleep
√ Understand the impact that technology, age, food, emotion and mental health have on sleep
√ Learn life-enhancing healing skills

Description
Sleep: Causes, Health Tips and Solutions
Do you struggle with sleep issues? 
Do you have difficulties falling asleep or staying asleep?
Do you experience vivid dreams or nightmares? 
Do you have insomnia, restless nights, or feel fatigued as a result of poor night sleep?
Don't worry. We got you covered!
This course will help answer many questions surrounding sleep issues and offer natural and science-based solutions to help improve your sleep and your overall well-being.
The goal of this course is to provide useful and easy-to-apply tips and healing techniques to help you sleep better and achieve ultimate health.

What You'll Learn in This Course
This course will give you the roadmap to start understanding how sleep works in easy and digestible terms, trace back the root cause of sleep issues and symptoms, and address them at the source using a combination of Chinese medicine techniques and good health hygiene.
We discuss why sleep is important for your health (physical, mental and emotional), the consequences of sleep deprivation, and how sleep affects our daily life.
We take a look at the science of sleep (including the different stages of sleep, the role of hormones in regulating sleep, and the importance of the circadian rhythm) and some of the amazing things that happen to our minds and bodies when we get enough rest.
We will explore the various factors that can disrupt sleep, including medical conditions, lifestyle habits, and psychological factors.
We will cover tips for creating a sleep-friendly environment and how to establish a regular sleep routine that aligns with your body's natural circadian rhythm.
We look at the various sleep disorders, including insomnia, sleep apnea, and restless leg syndrome, discuss their causes and symptoms, and offer healing solutions from both Western and Chinese medicine points of views.
In the course we do an extensive coverage of natural remedies to promote relaxation and better sleep, using relaxation techniques, such as acupressure points, qigong movements and breathing techniques, as well as other natural remedies including herbal teas and supplements.
The course also covers the role of nutrition in promoting better sleep, including foods that promote sleep and foods to avoid before bedtime
We will discuss the connection between physical activity and sleep, including the best time of day to exercise for better sleep and types of exercises that promote sleep, as well as the impact of technology and screens on sleep, and how to minimize it.
We will explore the relationship between sleep and mental health, including how depression, anxiety, and PTSD affect sleep and tips for managing sleep problems related to mental health.

At Course Completion
At course completion, you will be able to understand the cause(s) of your sleep issues, and address the symptoms(physical and psychological) using specific acupressure and qigong techniques, in addition to a variety of natural remedies and tips for better sleep.
The information and techniques shared in the course are easy-to-follow, easy-to-understand and easy-to-apply. 
If you have sleeping issues, and you are interested in improving your sleep patterns, this course is for you. And even if you don't have sleep issues and you want to improve your overall health and well-being, this course is for you.
Enroll today!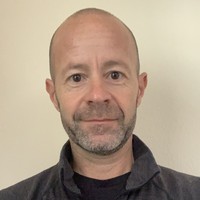 Luca Moschini is the founder and instructor of AcupressureThatWorks, an online education site that provide self-care healing training. He has been practicing and teaching Chinese Medicine for almost 20 years. Luca teaches self-care techniques at Stanford University in Palo Alto, CA and is a former faculty member of Five Branches University of Acupuncture and Traditional Chinese Medicine in San Jose, California, USA

Medical Disclaimer
The information on this site is not intended or implied to be a substitute for professional medical advice, diagnosis or treatment. All content, including videos, text, graphics, images, classes, blog posts, email transmissions and information, contained on or available through this web site, as well as information material shared through our courses, lectures, webinars, is for general information purposes only.
AcupressureThatWorks makes no representation and assumes no responsibility for the accuracy of information contained on or available through this web site, and such information is subject to change without notice. You are encouraged to confirm any information obtained from or through this web site with other sources, and review all information regarding any medical condition or treatment with your physician. NEVER DISREGARD PROFESSIONAL MEDICAL ADVICE OR DELAY SEEKING MEDICAL TREATMENT BECAUSE OF SOMETHING YOU HAVE READ ON OR ACCESSED THROUGH THIS WEB SITE, OUR COURSES AND ANY OTHER INFORMATION YOU RECEIVED FROM ACUPRESSURETHATWORKS.
AcupressureThatWorks does not recommend, endorse or make any representation about the efficacy, appropriateness or suitability of any specific tests, products, procedures, treatments, services, opinions, health care providers or other information that may be contained on or available through this web site. ACUPRESSURETHATWORKS IS NOT RESPONSIBLE NOR LIABLE FOR ANY ADVICE, COURSE OF TREATMENT, DIAGNOSIS OR ANY OTHER INFORMATION, SERVICES OR PRODUCTS THAT YOU OBTAIN THROUGH THIS WEB SITE, OUR COURSES AND/OR OUR PRIVATE SESSIONS.